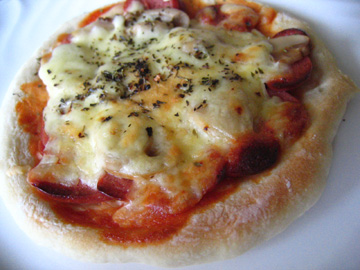 I love pizzas. I think they're the most ingenius creations. Of course we have to thank the Italians for that. Pizzas allow one to be creative. You can experiment, use various toppings and decide which ones you like most. My favourite kind of pizzas are those authentic Italian ones that's thin crusted and baked in a wood fire oven. It's just too bad I don't have one of those ovens at home.
So i made do with a humble conventional oven to bake my own pizzas yesterday. Yes yes the two pictures above show my handiwork. Those are the pizzas I baked. I haven't really attempted to make pizza by myself so I admit yesterday was my first time. I don't know why i haven't gotten to make my own pizza before. it is actually quite simple. the thing is getting the dough right. once that's done, the task is half completed. I got my dough recipe from a baking book I bought some time ago. This one makes 8 mini pizzas. Yea the size is about 6 inches. not that big not that small... just a handy size. but i guess if you want to use this recipe for just 1 big pizza, or 2 big ones, you can too. The recipe is as follows:
Basic Pizza Dough
2tsp dried yeast
1 tsp sugar
250ml/ 8 fl oz hand-hot water
350g/ 12oz strong plain flour
1 tsp salt
1tbsp olive oil
Mix the yeast and sugar with 4 tablespoons of the wather. Leave in a warm place for 15 minutes or until frothy.
Mix the flour witth the salt and make a well in the centre. Add the oil, yeast mixture and remaining water. Mix into a smooth dough with a wooden spoon.
Turn the dough out on to a floured surface and knead for 4-5 minutes or until smooth. Return the dough to the bowl, cover with an oiled sheet of clingfilm and leave to rise for 30 minutes or until the dough has doubled in size.
Knead the dough for 2 minutes and divide into 8 balls. Roll out each portion thinly to form circles, then place them on an oiled baking tray, pushing out the edges until even. The dough should be no more than 5mm/ 1/4 inch thick because it will rise during cooking.
_______________________________________________________
There you have it.. the recipe which worked for me. oh ya, forgot to tell you the oven temperature. well after you've put whatever topping you want, bake in a preheated oven, 200 degrees celcius or 400 degree Fahrenheit, for 15 minutes or until crispy.
I guess I must say, my first try at real pizza making was a success. I said 'real' because well i certainly didn't do it the lazy way and bought myself a ready made pizza base did i? =) i always believe in making my meals from scratch. never really believed in read-made stuff... that's why i never use store bought cookie dough. it wouldn't be typically mine if i didn't make my own dough from stratch. I would have to acknowledge Betty Crocker now wouldn't I? hahaa.. yes my cookies/brownies/pizzas are all authentically made by me. can't you see the Ms. Baker stamp there?