Finally had a timely chance to put a face to the food blogs I've been reading for the past months. Thanks to Aun, June, and Gwenda, us local food bloggers had a fantasticilious 5 course lunch at
Mag's Wine Kitchen
down Circular Road.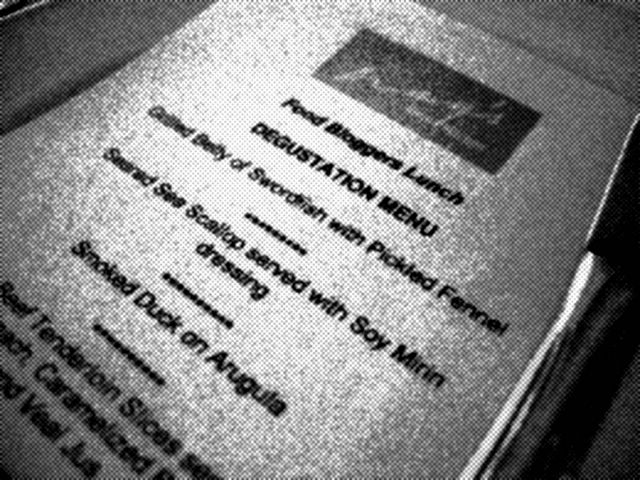 Now, you'd almost expect some awkwardness, considering that you're going to be meeting a couple of strangers you've never met before. But my oh my, if you were there in the same restaurant as us, you'd be mistaken and thought that we were a group of close friends, meeting up and reminiscing about the past, present and future. It was that noisy. I almost couldn't hear myself. Seems that we food bloggers are a chatty bunch of people.
Let me fill you in on those who came: J from the very aesthetically pleasing
Kuidaore
, Julia of
Aromacookery
, Daphne of
Kitchen Crazy Daffy
, Joan of
Dim Sum Dolly
, ST of
Cheat Eat
, SH of
Umami
, Catherine of
EatzyBitzy
, Nicole of
Como Quieras
and of course Serene, the lovely ST reporter and our 3 organisers, Aun of
Chubby Hubby
, June of
Nibble Scribble
and Gwenda of
The Adventure of the Tastebuds
.
If you think the company was great, wait till I get to the food. The 5 course degustation menu was really something and it only set me back by $45 nett. Okay, it's still quite a lot of money (i usually spend at most $20 on lunch!) but considering the quality of the food served, I would say it was worth every cent. Mag's Wine Kitchen truly rocks. I'm not saying just because.
Oh I have to thank the sponsor
BATS Singapore
. They were kind enough to provide us with goodie bags and the 4 lucky draw prizes won by Joan, SH, Gwenda and Catherine. We each had a lovely
Staub
spatula to bring home too.
I think it's from France and it seriously looks good - all their products i mean. Just flipping through their catalogue makes me wanna go out and buy them all. Lucky Joan won the fondue set!!!
Okay, I'll admit that I'm envious. hahaa.. I've been wanting a fondue set for the longest time. I love chocolate fondue but other than having them at Haagen Daz, I haven't been able to have one at home. Oh well... maybe I'll just use a mini stainless steel pot over the stove? Or even an aromatherapy pot, an unused one of course.
Before I digress somemore, back to the food. Yes yes...
We had Grilled Belly of Swordfish with Pickled Fennel as the first course. The swordfish was meaty enough to be quite unrecognisable. As Daphne commented, it really tasted a little bit like chicken. But I loved how they complemented the delicate fish with the pickled fennel. Yes, i love pickled stuff.
Next up was the Seared Sea Scallop served with Soy Mirin dressing. Now, scallops I've tasted before but none was as good as the one we had today. This one was seriously fresh and it was a delight to tear apart. It quite buoyant and brilliantly done. Not overcooked at all. I liked the fish roe they topped it with.
Smoked Duck on Arugula was the third course. Now, I hardly eat duck because the meat is a little on the tough side at times. But today's smoked duck converted me. You can tell that Mag smoked the duck really well because of it's tender texture and pink middle. She left the top layer of tasty fat too, which I think was a good move. I usually put aside all the fats, but this time, I ate almost all of the fat. Haha, more running for me later. =p Oh, oh, the arugula leaves were a bonus, it blended really well and added some 'crunch'.
The star of the day was definitely the Seared Beef Tenderloin Slices served with Butter Spinach, Caramelized Baby Carrots and Veal Jus. I got to tell you, I'm addicted to Mag's seared beef tenderloin. I was almost speechless when I placed the meat into my mouth. It's almost indescribable. I'll try my best to concoct the 'taste' for you. This beef was as tender as can be. It didn't have the irritating beefy feel you get when its overcooked. This one was chewy, light, and it almost melts in your mouth. I'm serious. It was just fantastic. You have to try it for yourself to understand where I'm coming from.
Dessert was Cream Caramel. It was divine. Smooth, and light, it brought the lovely lunch to a sweet caramely close. I can flutter my eyes in pure ecastasy and claim this gorgeous lunch a great success. Thanks also to the talented chef, Mag!
* Finally posted up the pictures. But if you want to see more professionally taken shots of the food, check out
Chubby Hubby's coverage of the lunch
.