Entrance of The Rice Table @ Cuppage Terrace
There's something about buffets that entice most Singaporeans. My countrymen are known for being great bargain hunters. Anything that's value-for-money, they'll spot it with their eagle-eyes. I guess there's nothing wrong about it. And man, when it comes to food. We people know how to enjoy.
Enjoy I did, when me, Cheryl Anne and Adeline went to The Rice Table recently to celebrate Adeline's 21st birthday.
The interior
The Rice Table is known for it's credible and scrumptious Indonesian dishes. Served on an Indonesian Dutch
rijsttafel
(rice table), the dishes come in quaint little porcelain dishes that contain amazing gems such as the tauhu telor, which has a great crunch factor:
Their scrumptious tahu telor (tofu omelette) - not for those who hate fried stuff!
The restaurant serves lunch and dinner and all they have is the famed a la carte buffet.
Why famed? Because the place is so well-known and 'hot' that you have to book in advance before you're ensured a seat. Forget about a spontaneous decision to go eat there. You have to reserve at least a day in advance. It's always packed.
You'll understand why, when and if you do go on down to savour their authentically indonesian cuisine:
Clockwise from top left: Perkedel Jagung (Potato & Corn Fritter), Ikan Bilis (Fried Anchovies), Kangkong Belachan (Waterconvolvulus), Otak (Grilled Fishcake)
Their selection is wide and varied, which is good. You won't get bored. There are more than 15 dishes and it's okay if you're not really a chilli lover - the food isn't that spicy.
Clockwise from top left: Sotong Asam (Spicy & Sour Cuttlefish), Gado Gado (Salad in Peanut Sauce), Ikan Goreng (Fried Fish), Tahu Kuning (Curried Tofu)
As you can see from the photos, we ate like pigs. It was truly a huge feast! I ate till my tummy nearly burst. Now you see why I try to avoid buffets.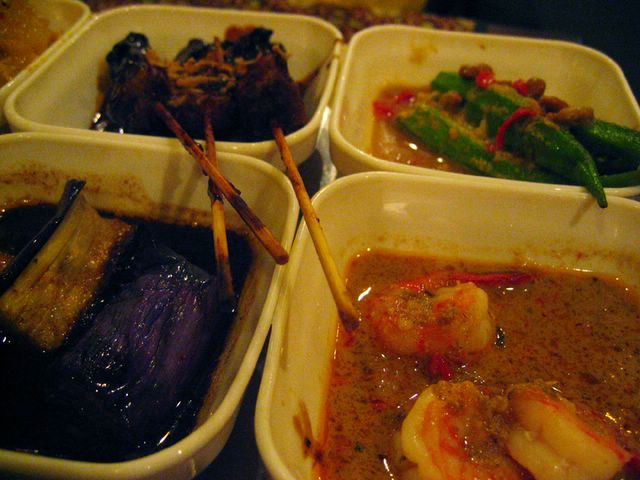 Clockwise from top left: Sate Ayam (Chicken Satay), Ladies Finger, Sambal Udang (Spicy Prawns), Terong Kecap (Eggplant in Soya Sauce)
My favourites are the the Chicken Satay, Eggplant, and of course the sambal kangkong. Yes, I love my veggies and I totally dig Indonesian cuisine. Spices and curries and tasty treats rock my house down.
Anyway it was truly a great dinner we had. You can never go wrong with The Rice Table. It's perfect especially if you have a bottomless pit for a stomach.
___________________________________
The Rice Table
#02-09/10
360 Orchard Road
International Building
Tel: 6835-3783
43/45 Cuppage Road
Tel: 6735-9117
#03-28
Suntec City Mall
3Temasek Boulevard
Tel: 6333-0248