Today's my sister's birthday. She turns 15 and I decided to cook for her.
My parents were out of town visiting my grandma in Klang so the house was pretty quiet. My brother wasn't home so it was just me and her, and JF whom I invited to share the joy and good eats.
You're probably wondering what birthday cake I baked?
Wanna guess?
I've baked this cake before but using a different recipe and frosting.
It was tough deciding what cake to bake. I actually wanted to bake something that didn't have chocolate (considering that most of what I bake always has chocolate!). But it was my dear sister's birthday and she wanted something chocolate so I baked a Devil's Food Cake, the Williams-Sonoma way.
I've noticed that Williams-Sonoma's recipes are really detailed and very descriptive. Not that I don't like it this way. It's just that some of the recipes require you to read through it a few times. Is that good or bad? I think both. Good because it gives you a better idea of what steps you should take, bad when you are in a rush and don't like to go through so many paragraphs just to find out that all you needed to do was to mix something with something and cream it or cook it etc. Haha, oh well but I guess different recipes work differently! Anyhow, the cake was fine, and baked well. But there was one problem: the frosting.
The cake called for Coffee Meringe Buttercream which I made (the Williams-Sonoma book had the recipe) but I lacked a candy thermometer. The recipe required me to gauge and boil some sugar syrup until it reached a certain temperature.
Despite not having a candy thermometer, I still went ahead with it and I suspect that I estimated wrongly. Heh, I don't suppose that I can tell the temperature by vision alone? So the buttercream wasn't as thick as I expected but it was usable. I just frosted the cake real quick and put it into the fridge.
It tasted yummy though. I reduced the sugar for the cake yet again and it was fine the way it was.
So what did we have for dinner?
Ever heard of orzo?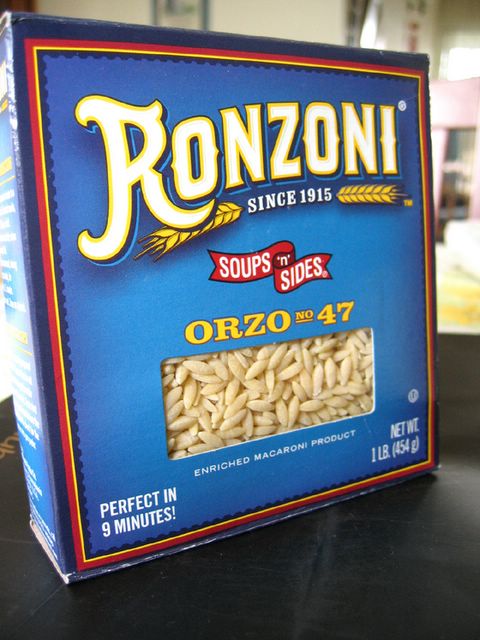 It's actually my first time using it. I think it's used quite often in Greek dishes.
The dish also required some crushed tomatoes with added puree:
I bought stewed tomatoes instead and I think it added more flavour to the dish.
Then there was Kalamata olives too..
What did I cook?
Chicken with Tomato and Feta Cheese Sauce
. Got the recipe from Epicurious yet again. It's kind of Greek inspired I think. The recipe recommended it to be served with orzo too - ya that's why I bought those rice-shaped pasta.
How did it go? It tasted great but there was one problem. I didn't think it looked nice enough. To be honest, it looked weird. I think the sauce ended up too watery and the feta cheese didn't fully dissolve (is it supposed to? i don't know?). I was rather disappointed. But oh well, you can't judge a dish by the way it looks right?
So here's the chicken and the orzo before I pour the sauce:
and here's a shot of it after I pour the sauce:
Looks messy eh? I keep thinking if I did something wrong... not sure but I might cook this again because it's really delicious. Well the birthday girl loved it :)
Anyway it was a great Sunday and to my dearest, sweetest sister, HAPPY BIRTHDAY! Love ya lots! You're the best sister ever....