I'm very curious about the increasing popularity of all things Korean. Am I the only one who's noticed it? Maybe, maybe not.
Lately, there's an influx of Korean movies and suddenly it's hip to be Korean. Girls drool over Korean heart-throbs like Lee Dong-gun and Bae Yong Jun etc.
It doesn't stop there either.
The culinary world isn't spared.
I see more Korean eateries around town and well, their cuisine is certainly catching on - here especially.
I do admit that I'm really not the expert when it comes to Korean food but I do enjoy eating it. And speaking of eating it. It so happened that I had some Korean food for dinner yesterday. Don't have photos though. Apparently I was too hungry and tucked in before snapping a shot.
What I ate was a very unique Korean creation at Marina Square's Food Loft (the newly renovated place looks loads better now). Called the Bi Bim Bab, it's actually rice with a medley of greens (yes, I'm the veggie lover remember?) such as beansprouts, grated carrots and cucumbers and also kai lan. There was also mushrooms and spicy chicken. All this was put together neatly around a mound of rice and topped with a fried egg - sunny side up, in case you were wondering.
That's not all, what was even more special, was this red sauce that they splashed on... no it wasn't ketchup and neither was it chilli sauce. It had me rather intrigued. It tasted almost like 'miso' (fermented soya bean paste' but yet, it had a tinge of sweetness to it. Maybe I'll quiz the chef next time.
This Bi Bim Bab came with a saucer of kim chi and salted ikan bilis (anchovies) which I added in... I didn't really know the right way to eat the Bi Bim Bab, so I simply mixed eveything up with the sauce. and added plenty of chilli powder. The end result? A lovely mix of sweet, sour and spicy. Just the way I like it. Awesome stuff. And it was healthy too! =) Anyways, I'll be sure to take pictures the next time I eat it again.
If you think that was the end of my dinner, think again.
Being the dessert lover that I was, I had to have my cake and hmmm devour it?
So after exploring the rest of Marina Square, me, and my makan buddy mike settled for this new cafe which coincidentally had something to do with Korea.
I was rather amused with the coincidence... didn't realise it only much later.
Got to confess that I actually decided to have dessert at the cafe because they had sofas. I'm a sucker for the 'comfy inviting sofa-laden' type of cafes. Please don't laugh. I just think that when it comes to chilling out, the right way should be on comfortable furniture sans cold hard chairs.
Anyway, as I was saying, this was actually a Korean Lifestyle Cafe called "People Say".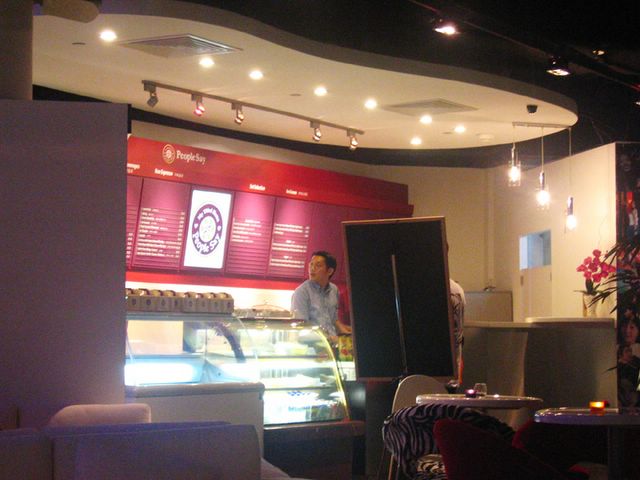 Really, don't bother asking me why they called it that. It's supposed to be a franchise of an actual cafe in Korea. It's supposedly the only Korean cafe in Singapore. heh. and I discovered it! not that it's a major achievement.
No, they don't really serve Korean food. But rather, just your usual cakes, sandwiches and coffee. But the best thing was the promotion they had on. I don't know how long it's going for, but they actually told us that we get a free Americano (worth $2.90) when we buy any slice of cake. Not that their cakes looked fantastic or they had a great variety but it did seem like a good buy. And seeing that I can't say no to some coffee and cake, we settled there, and yes on a sofa... with cushions.
I had the opera cake ($4.90) whilst mike had an american cheesecake ($4.20). I got to say that the cakes were pretty decent. Nothing to write home about but pleasurably delightful enough to satisfy my sugar craving. We actually changed our Americano to a Latte (had to pay $0.50 extra because lattes cost more) and proceeded with some indulgence.
The cheesecake wasn't too heavy and too creamy. It had a nice smooth texture that crumbled ever-so-lightly at the gentle prodding of my fork. This one didn't have the typical digestive biscuit base. Instead, they used a soft white sponge cake... i think. well it tasted like it. The cake went well with the latte of course.
Opera cake looked much better than the cheesecake simply because of it's multiple layers. And you know what? there's actually some history to opera cakes. Apparently it was concocted back in 1903 by Louis Clichy in the Exposition Culinaire in Paris. Formerly named 'Clichy', it was renowned Parisian patisseria Dalloyau who renamed it 'L'Opera'.
If you think this cake sounds delicious, wait till you hear what it's actually made of. The cake has a total of 7 layers (wow) and three of which are coffee-soaked joconde (almond sponge cake), two, of coffee butter cream, one of ganache and the last one of chocolate glaze.
Go ahead and count the layers! There are really seven...
See, didn't I tell you it was a work of wonder? I got to say that I was won over by the top most layer of chocolate. I'm not sure if the cafe makes it in-house, or actually flies it over from Korean (heh i highly doubt so!) but i was quite impressed with the quality that I was almost sorry to have under-estimated their value.
And so, that cake certainly made my day. I would be lying to you if I said it didn't. This certainly won't be my last time at the cafe. It's ambience is enough to make you want to say till it closes (well i did)...but just a slight warning.. they play Korean music that can be quite irritating (or maybe it's just me, because I usually prefer jazzy, classical music when I'm chilling at a cafe).
For more about Opera cakes and if you're looking for a recipe, check out A La Cuisine's in-depth description and comments on this
musically talented cake
(sorry, couldn't help being cheesey here) that's so good, it'll make you sing as well as an Opera singer.
______________________________________________________________
People Say
6 Raffles Boulevard
#03-257 Youth Zone
Marina Square
3 and a half out of 5 burps
______________________________________________________________