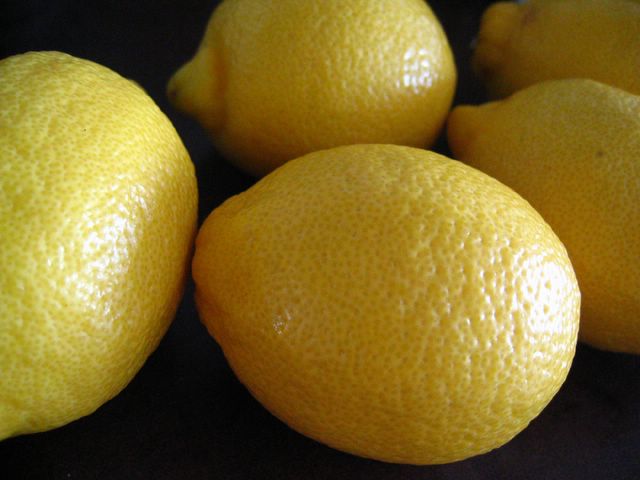 Made some
lemon curd
2 days ago on a bright and early saturday morning. It was an impromptu decision. I was in a rather lemony mood. But we didn't have any more lemons at home so out I went to the market to get me some. I must admit that it's been ages since i went to the market. and i don't mean the supermarket. i'm talking about the old school wet market. the ones where you can smell the fishy fish and get fresh produce at a much cheaper price than at supermartkets (my 6 lemons cost me only SGD$2). it was a blast from the past. i remember accompanying my mum to the market when i was younger. i would purposely wait out while she chose her fish. I couldn't stand the smell...besides, the floor was always all wet and grey. but i liked the other parts of the market though. choosing fruits and vegetables. the best part.
the fruit stall where i got my lovely lemons
my, this reminds me of the market I visited when i was holidaying in London 4 years ago. I think it was called Spittalfield's market. If my memory doesn't fail me that is. i loved the entire concept! it's a much better version than the wet market in Asian countries. This one was in a huge wide sheltered place with neat rows of stalls and lovely goods including freshly baked bread and knick knacks. Very British I must say. I adore London. In fact, i'm in love with the place. I know I'm going to migrate there someday and get myself a lovely quaint cottage with an apple tree and grow some sunflowers in my garden. and yes, i will definitely have a herb garden too. then i'll have all the basil, oregano, rosemary, thyme etc i want. those are the dreams. am i building castles in the clouds? maybe i am, but trust me, one fine day, i will have my scone and eat it too. in fact, i do intend to do my post grad studies in the UK after I finish with my Bachelors. I seem to be planning way in advance i know, but it doesn't hurt ya? Oh, speaking of UK. if you're ever in Brighton, try the Harry Ramsden fish & chips. Superb. i think they have other outlets elsewhere in the world, if i'm not wrong. the chips aren't chips, but wedges. how cool is that. =)
haha okay enough reminiscing already... now back to my home made lemon curd... It was my first attempt and i must say it turned out really well! i'm so pleased with the result. I first tried lemon curd last year at a cafe and was delighted with the refreshing citrus-y taste. it's actually like
kaya
(a jam made from coconut and eggs), in terms of texture and consistency.
But seriously, lemon curd is in a league of its own. The colour is a brill semi-milky yellow and it's thick enough to look good when spread on bread. i used a total of 6 lemons for this. actually had to grate the zest of all 6 lemons and squeezed 4, for the juice. my hands were rather tired after that, but boy was it all worth while. lemon curd is simple to make and very satisfying. it contains some butter (unsalted), and that explains the semi-buttery feel. it's a good combination, me thinks. you have to try it for yourself to know what i mean.
i'm not sure where lemon curd originated from. i think from Britain. I just like the idea of sitting down on a lovely saturday morning, with my pot of tea and eating lemond curd spread on scones! heaven... well i didn't have scones at home so i settled for bread and crackers. i must master the art of scones too.
geez there's too many stuff that i want to make! but so little time! i have molten choc cake, creme brulee, souffle, on my list already. the more i come across excellent recipes, the more inclined i am to make them. ahh... well this is the art of food i guess. it just so happens i love the adrenaline rush that cooking/baking involves. get what i mean? it's the anticipation of the final product. it's just an exciting process. i'm thinking of having a dinner party soon. maybe with fellow food bloggers? just a passing thought. we could have pot luck at someone's place. hmmm. that'll be good!
anyway, just realised my 21st birthday is coming up! Only next month... and i have to start planning. i'm intending to cook and bake some food and also rope in my aunts - they're great cooks!. I shall ask them to make their specialities and bring them to my party.
hahaa... i'm rather excited about this whole thing. after all, i haven' really had a birthday party since .... since a long time actually. i think the last time i had one, was when i in kindergarten? gosh... sounds pathetic. the past few years were worse. i didn't really celebrate at all. was too busy with school work. one year, i was simply slogging over the computer, typing furiously on my birthday, in a bid to rush some important assignment. what to do, i'm a workoholic. it's a win-lose situation. heh. but THIS year, this year's an exception. I'm not in school YET. so i must celebrate while i can! I start university on August 1st actually. Geez, that's like only 3 days after my birthday. well then i guess my birthday party could double up as a celebration of starting life as a student once again. okay, that said, am going to start doing up the menu! and do expect plenty of pictures of the food, after the party! =) so stay tuned...
___________________________________________________
Lemon Curd
1 tablespoon plus 2 teaspoons finely grated fresh lemon zest
1 cup fresh lemon juice
1 1/3 cups sugar
4 large eggs
1 3/4 sticks (3/4 cup plus 2 tablespoons) unsalted butter, cut into tablespoon pieces
Whisk together zest, lemon juice, sugar, eggs, and a pinch of salt in a 2-quart heavy saucepan. Add butter all at once and cook over moderately low heat, whisking constantly, until curd is thick enough to hold marks of whisk and first bubbles appear on surface, about 10 minutes. Immediately pour curd through a fine sieve into a bowl, then chill, covered.
Note:
• Lemon curd keeps, covered and chilled, 1 week. Makes about 3 cups
Recipe taken from
Epicurious
____________________________________________________