spices like cinnamon bark sticks, star anise, cloves, caradom seed, whole all spice, and white pepper corns.
There really ain't nothing as satisfying as a warm cuppa tea after a good hearty meal. I love milk tea, I love warm hot aromatic tea. Give me chamomile, green or english breakfast tea anytime and I'll be a happy tea girl. But of late, I've been quite in love with some sort of different tea 'concoction'. I believed the indians came up with it. Called Chai, it's actually spiced tea with milk and it's a great pick me up! I think it's similar to masala tea too.. hmm or maybe both are one and the same. Anyway I decided to make my own with a recipe I found online. Mine didn't have that strong a spice taste so if you are like me, and love that extra kick, just double the spices and let the flavours mix and meld into each other!
simmer with milk
and viola! My first attempt at Chai! .....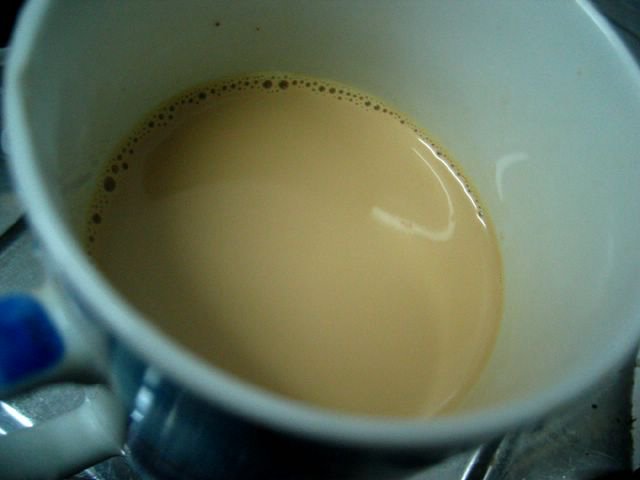 I love the milky light brown colour.... very soothing i think. haha oh don't you just love chai? Starbucks now has this Chai tea latte even.
____________________________
Chai
Spices
1/2 star anise
10-12 whole cloves
6-7 whole allspice
1 heaped teaspoon of cinnamon, or two short sticks
6-7 whole white peppercorns
1 caradom pod opened to the seeds
Other ingredients
1 cup water
4 cups whole milk
2 heaped tablespoons of high quality full bodied broad-leaf black tea (Ceylon, or English Brakfast if a broad-leaf Ceylon is not available)
Sugar
1. In a 2 quart saucepan, add spices to 1 cup of water. Bring to a boil; remove from heat; let steep for 5-20 minutes, depending on how strong a spice flavour you want
2. Add whole milk to the water and spices. Bring the milk and spice mixture to a boil and remove from heat
3. Add tea leaves to the milk and let steep for 5 to 10 minutes or to taste. You can choose to add sugar at this point.